Impulse Bag Sealers


Seal various poly and vacuum pouches with these hand sealers. Found in a variety of sizes to fit the changing needs of our customers.


Our 4", 8", 12", 16", 20", and 24" models are usually kept in stock year round for your convenience.
Shrink Wrappers


A cost-effective way to package video tapes, DVDís, compact disks, cassettes, software, books, gift baskets, art prints and almost anything else you may have. We also carry food quality wrap for fruits, candies, pastries, etc.


Your imagination is your limit, come in and see a helpful demonstration of what our equipment can do for you.
Continuous Band Sealers


For higher volume production the Continuous Band Sealer is a must. The conveyor moves through the entire sealing process providing a quality seal in a fraction of the time. All in one imprinting is also available and provides production codes or a 'sell by' date to be placed while your product is being sealed.
Vacuum Packagers


We carry Industrial Chamber Machines for vacuum and gas packing as well as smaller units for personal or small volume use. When used in conjunction with our vacuum pouches you can greatly increase shelf life of your food items. Non-food items will remain protected for use in long term storage or shipping.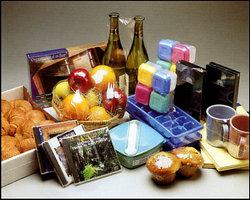 Shrink Wrapping for Every Occasion