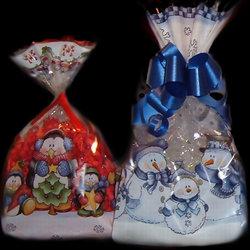 Printed B.O.P.P.
B.O.P.P. Bags
When clarity is essential B.O.P.P. or 'Bopp' bags provide exactly what you're looking for. A perfect choice for dry products such as cookies, chips, popcorn, and other crispy snacks. Available in different compositions and thicknesses; clear or printed; flat or gusseted. Customizing, such as printing or tear notch, available with minimum quantity orders.
A moisture and oxygen barrier prolongs shelf life and crispness of food items. Bags may be sealed with ordinary impulse sealers or direct heat sealers which we sell as well.

In Clear or Printed varieties.
Foil Gusseted "Coffee Pouches"
These are the standard coffee bags found in all major outlets across our nation. Available in an assortment of colors and sizes to fit your needs. Multiple colors, up to a four-color process, are available for custom printed orders.
Use of an optional valve may release gasses building up within the bag. It also allows your customers the opportunity to sample the distinct scent of your product. Gas is released from the valve and oxygen and moisture are unable to enter your sealed product.
Vacuum Pouches

These pouches extend shelf life; reducing moisture loss and freezer burn. An oxygen barrier prevents the growth of mold and other spoilage bacteria. Pouches may be sealed with an Impulse Bag Sealer or a Vacuum Packaging Machine. Optional re-closable zipper, hang-hole, and tear notch available on special orders.

In Clear, Clear/Gold and Gold varieties.
Poly Bags
Inexpensive polyethylene (P.E.) and polypropylene (P.P.) bags are available as flat bags or with gussets. These bags are for items that do not require added protection from oxygen or moisture.
Gummy candies, 'crack seed', hard candies, non-food items, are all good choices for these types of bag. Able to seal really well with ordinary impulse sealers (also available) or closeable with paper or foil tin-ties (also available.)
Stand-up Bottom Gusseted Pouches
Looking for an extended shelf life that is great for coffee, cookies, or other items? Stand-up pouches may be just what you need. Available in clear, solid colors, or with clear front panels and solid backings (excellent if you want the customer to be able to see your product.)
Available with or without zippers and valves. Zippers provide the convenience of resealing, while valves releasing gasses and providing the unique smell of your coffee, tea, or other product.
Paper Tin-Tie Bags
Available in assorted colors and sizes. Each has a poly lining which allows the paper bag to be heat sealed for freshness and tamper evident protection.
Tin ties make resealing unused portions convenient and neat for your customers.
Rollstock Film
Available for use on high production vacuum packaging equipment. Customized printing and a wide variety of sizes and thicknesses make this option feasible for the larger producer.
Formed on two rolls, these films seal together to make a barrier around your product. If speed and efficiency are your goal then rollstock is definitely the answer.
T-Shirt or Merchandise Bags
Thin and affordable, these bags are available in many sizes and colors. Custom printing with a logo available with a minimum order.
Please Note: As of January 11, 2011 there is a plastic shopping bag ban on Kauai and Maui. As of July 01, 2015 there is also a plastic shopping bag ban on Oahu. Please check your local laws before purchasing.